We've lawyered up
October 18, 2023
Tracey Saxby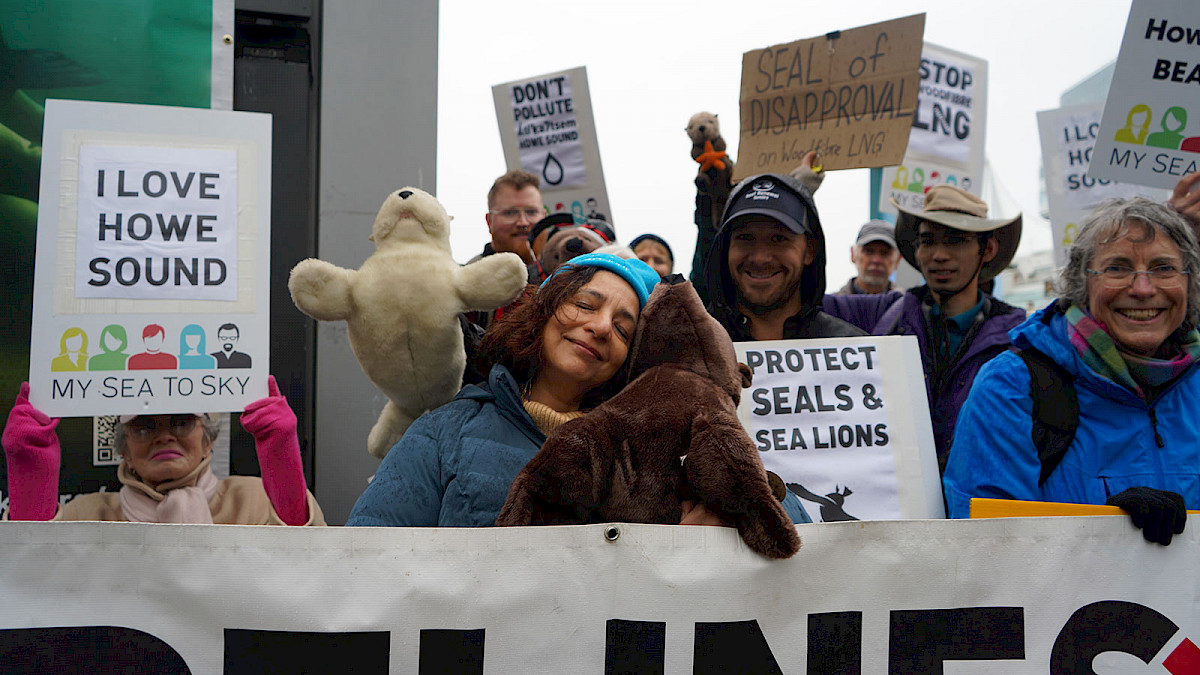 I am very excited to announce that we've put together a kick-ass legal team to overturn project approvals and hold the Federal and Provincial governments to account. We currently have two legal actions underway.
Standing up for species at risk
Earlier this year, Minister Guilbeault amended the 2018 Federal Decision Statement to allow Woodfibre LNG to reduce the monitoring area for seals and sea lions by a shocking 98%.
The Minister also weakened the conditions related to water quality and sediment, allowing Woodfibre LNG to avoid responsibility for its pollution.
We're filing for a judicial review to challenge this decision.
Precedent-setting litigation
The Impact Assessment Act is relatively new legislation. We're challenging whether a Minister can legally change the conditions of Woodfibre LNG's decision statement under this new Act.
We believe the decision was unlawful and unreasonable as the decision maker:
failed to consider impacts to a species at risk;
did not base the decision on the latest available science;
limited the scope of water quality and sediment monitoring to those "attributable to the project;"
based the decision on legal, political, and economic rationales, instead of fulfilling their mandate to protect the environment for Canadians.
Stopping toxic water pollution
Last week we shared that the BC Energy Regulator has issued a "temporary" permit to allow FortisBC to discharge effluent into the Squamish River for 15 months to "enable construction timelines" for FortisBC's tunnel.
This effectively avoids public scrutiny and oversight.
So we're filing a Notice of Appeal via the Environmental Appeal Board for British Columbia. We need to act quickly, as FortisBC has started construction to prep the tunnel entrance at the BC Rail site, and is already laying pipe to discharge effluent into the Squamish River.
We need to raise $100,000
There is no doubt that legal challenges can be expensive.
Not only are there legal fees, we also need to pay for expert peer review, access to information, and dedicated staff time to support these two cases.
But we have a moral imperative to challenge these flawed approvals.
We are partnering with the Sunshine Coast Conservation Association to pursue these legal actions, to stop Woodfibre LNG and FortisBC from harming the environment and species at risk.
To support these legal actions, you can donate cash or securities to the Sunshine Coast Conservation Association via Canada Helps and receive a charitable tax receipt. IMPORTANT! Make sure you select the Stop Woodfibre LNG campaign.
DONATE NOW TO STOP WOODFIBRE LNG
For donations over $1,000 you can donate directly to the SCCA via cheque or e-transfer:
E-transfers can be sent to:
Sunshine Coast Conservation Association
info@thescca.ca
Memo: Stop Woodfibre LNG
Cheques can be sent to:
Sunshine Coast Conservation Association
PO BOX 1969, Sechelt, BC V0N 3A0
Memo: Stop Woodfibre LNG
*******
Together we are fierce, we are determined, and we are going to win this.
Thank you for your support.
Tracey Saxby
Executive Director
My Sea to Sky