The oil spill in English Bay was a tragedy that could have been avoided
April 15, 2015
Melyssa Hudson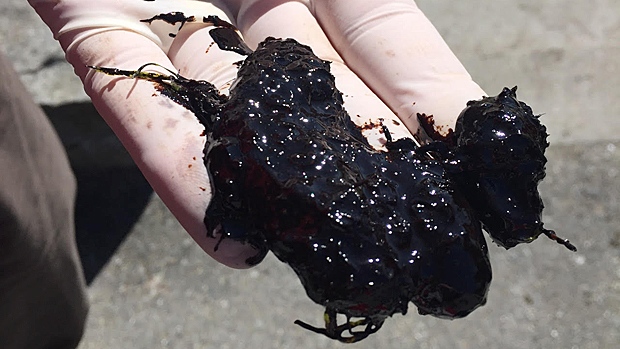 My goodness what a disaster!
On Wednesday 8th April, ~2,800 litres of toxic bunker fuel was spilled in English Bay, and the black tar-like sludge has been washing up on Vancouver's beaches for the last week. The media was blazing with information as the event unfolded. There was lots of confusion. Who is responding? Where are they? How are they responding?
The details of the recovery response show fundamental holes in the government's ability to respond to such disastrous and toxic events. At 5pm on Wednesday, the coast guard was notified by a passing sailboat of a sheen on the surface of the water, but did not notify the city of Vancouver until 6am the next morning. By that time the spill had continued in the bay for over 12 hours!
Where was the sense of urgency? Where was the concern for human health impacts? The public was assured that clean up was underway yet citizens on English Bay reported not seeing anyone cleaning up or placing booms to prevent the toxic slurry from reaching the beach where dogs and children played. The general public didn't have confirmation of what the substance was either. Was it fuel? Was it crude oil?
"It was a 'huge failure' that Port Metro Vancouver or the Canadian Coast Guard didn't alert the city to the spill until more than 12 hours after it happened, a BC NDP environmental critic said at a press conference." Even Premier Christy Clark admitted: "We don't have world class spill response on our coast."
Concerned citizens rushed out to clean up the sludge that was collecting on shore putting themselves at risk of exposure. Meanwhile, Western Canadian Marine Resources Corp, the private company which was contracted to clean up the mess (which happens to be 50% owned by Kinder Morgan - can you say conflict of interest?), was nowhere to be seen. Shame.
We often hear in the media 'we must learn from this for the future' but the reality is, we have learned and these tragedies continue to happen: Kalamazoo, Michigan, Mayflower Arkansas, BP in the Gulf of Mexico, and the list goes on. What we learn over and over again is that the government is in no way ready to deal with oil spills on water or land effectively. We've learned that the communications between all levels of government is poor at best.
What does this mean for us in Howe Sound? It's quite simple actually:
Our contribution to this problem and the threat to the coast is right before our eyes. Dangerous LNG tankers from Woodfibre LNG will be passing through English Bay and possibly anchoring there to take on bunker fuel (Note that Port Metro Vancouver recently, and quietly, changed its rules to allow bunkering (refuelling) of these ships in English Bay after pressure from the BC Chamber of Shipping,). These massive tankers would not only increase the traffic in English Bay and the Salish Sea but would introduce a new fuel with its own set of hazard concerns.
Sure, LNG wouldn't coat sea birds in thick, toxic sludge but transporting LNG holds its own threat. LNG is classified as a Class 2 hazardous cargo (one grade below explosives) because of the volatility and flammability of the ultra-cold liquefied gas. There are international standards that require LNG tankers not to operate near populated areas due to the risks imposed on the public in the infrequent but serious risk of catastrophic leaks, fires, and explosions. In the U.S., the recommended safety exclusion zone is 3,500 metres (3.5 km) on all sides of an LNG tanker. As Dr. Eoin Finn of My Sea to Sky has shown us, that exclusion zone incorporates communities along the length of Howe Sound, much of West Vancouver, parts of the North Shore and Vancouver's West End and Stanley Park. How is that okay?
If Woodfibre LNG gets approval to build their facility in Howe Sound, we are adding another threat to residents along the Sea to Sky and downtown Vancouver. That is the role we play in this big picture game. That would be our contribution to the safety of citizens throughout Howe Sound, Vancouver, and the Salish Sea.
We have a serious decision that we need to make. Do we want to contribute to fossil fuel disasters in our country and the expansion of fossil fuel industries? Are we a part of the solution or are we going to be a part of the problem?
Tell us what you think.
More info: