Monitoring FortisBC construction
November 4, 2023
Eoin Finn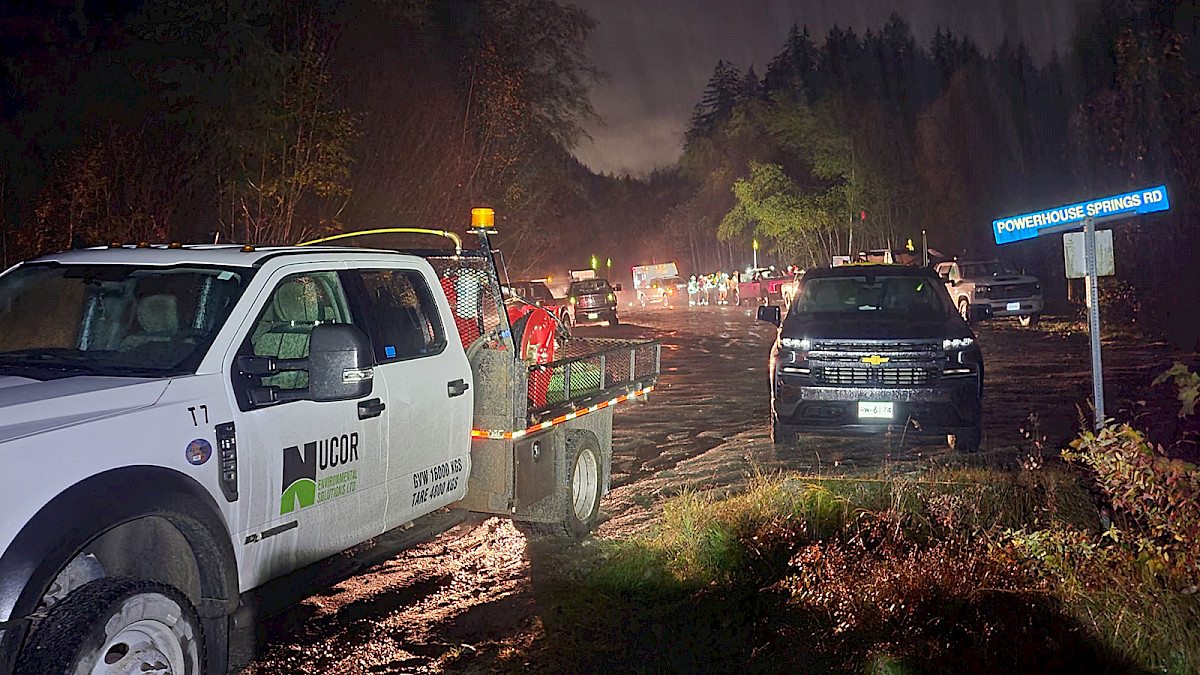 Here are a few key updates on FortisBC and Woodfibre LNG:
Road upgrades have started
FortisBC and its subcontractors have started road upgrades along the pipeline route, starting on the Mamquam Forest Service Road (FSR) in Squamish.
FortisBC advises that there will be traffic impacts on the Mamquam River FSR, Stawamus-Indian FSR, Young Lake FSR, and Hixon FSR from now until November/December.
Pipeline is arriving
Steel pipe has started arriving via Squamish Terminals, and will be transported through Squamish over the next three weeks. The pipe is being stored at the BC Rail site which is being used as a temporary laydown yard as FortisBC has failed to secure the permits it needs.
District of Squamish councillors expressed frustration at a recent council meeting as FortisBC is still not providing adequate or timely information.
READ THE SQUAMISH CHIEF ARTICLE
BC Rail site: a toxic dumping ground
As FortisBC starts construction at the BC Rail site, several long-time locals reached out to inform us that the BC Rail site has a long history of toxic pollution. Old newspaper clippings from 1972 revealed that BC Rail used to dump oil and other toxins on the site.
While some remediation has occurred, it is highly likely that as FortisBC starts construction on the tunnel these historic contaminants could be disturbed. The heavy rains are here, and we're worried about potential runoff into the Squamish River, Squamish estuary, and Átl'ḵa7tsem / Howe Sound.
Contaminants include: hydrocarbons, polychlorinated biphenyls (PCBs), transformers, parts of locomotive engines, antifreeze, engine oil, and creosote rail ties.
This is yet another reason why we need to ensure public access and review of FortisBC's plans to discharge effluent into the Squamish River.
SEE THE 1972 NEWSPAPER CLIPPINGS
Two legal actions underway!
We are partnering with the Sunshine Coast Conservation Association to overturn project approvals for Woodfibre LNG and FortisBC, and hold the Federal and Provincial governments to account.
Last Friday we filed a Notice of Appeal via the Environmental Appeal Board to challenge the "temporary" permit issued by the BC Energy Regulator, allowing FortisBC to discharge effluent into the Squamish River for 15 months.
Thanks to your support, our lawyers have also started the process to file for a judicial review to challenge a recent Federal decision that puts seals and sea lions at risk.
LEARN MORE ABOUT OUR LEGAL ACTIONS
*******
20% of the way to our goal
Our supporters have really stepped up, raising nearly $20,000 in a little over two weeks.
With heartfelt gratitude to the 100+ generous donors that have contributed so far! Can you chip in?
To win we need to raise $100,000 to pay for legal fees, expert peer review, access to information, and dedicated staff time to support these two legal actions.
Yes I'll chip in!
*******
We have a moral imperative to challenge these flawed approvals and hold Woodfibre LNG and Fortis BC accountable.
With determination,
Eoin Finn
Research Director
My Sea to Sky