Help us end fracking in BC
March 23, 2023
Tracey Saxby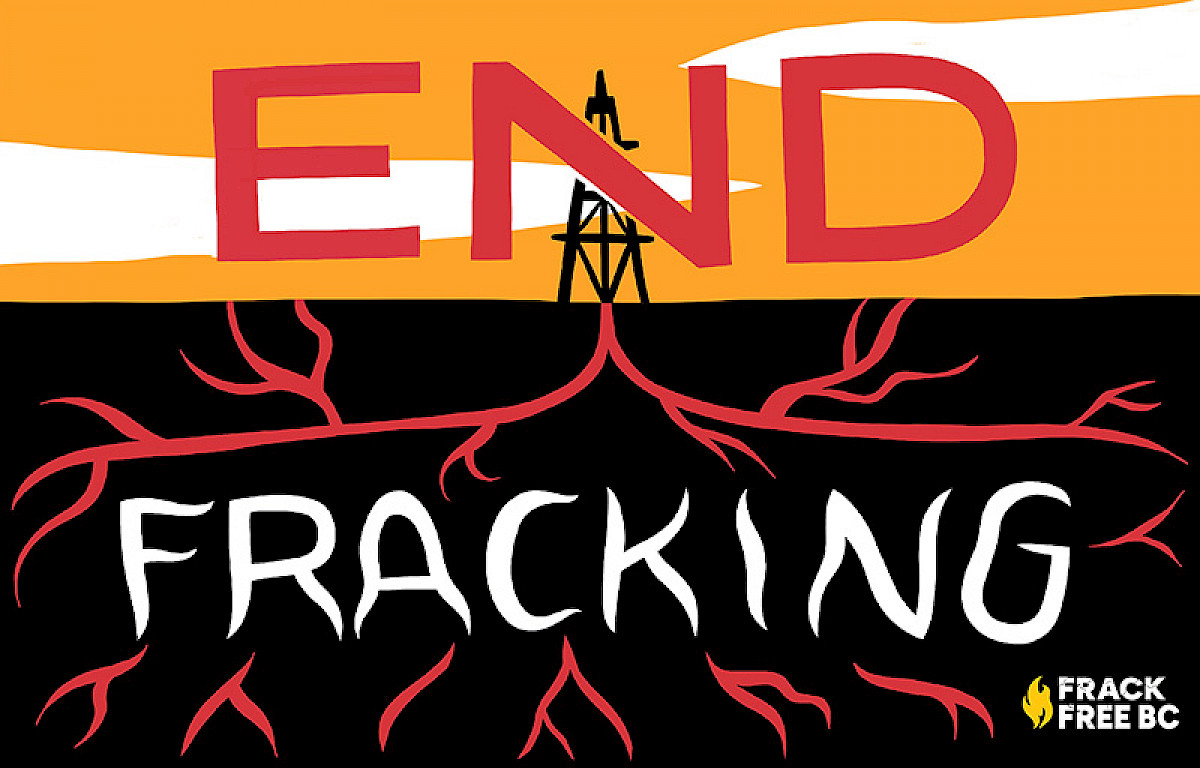 Fracked gas is B.C.'s biggest climate problem. But the government continues to approve new LNG terminals, and is planning a massive expansion of the fracking industry.
To turn that around, our movement needs to show up bigger, louder, and more often.
That's the vision behind Frack Free BC, a new alliance of groups and individuals organizing across the province to end fracking.
You're invited to join Frack Free BC's first major action, coming up this weekend: an art blitz that will blanket our towns and cities with posters and banners calling for an end to fracking.
By making the call to end fracking visible across B.C., we'll raise awareness in our communities, turn up the heat on politicians and help build a movement strong enough to take on the power of the fossil fuel industry.
There are poster and banner actions planned in 40 communities across B.C. I hope you can join in at the banner action nearest you! Please email the host listed to let them know if you're planning to be there.
Vancouver
WHEN: Monday, March 27, 7 A.M.
WHERE: Stanley Park pedestrian overpass, directly west of Beaver Lake
HOST: Peter McCartney, peter@wildernesscommittee.org
Whistler
WHEN: Sunday, March 26, 3 P.M.
WHERE: Highway 99 Overpass at Nordic Drive
HOST: Erich Baumann, baumanne@telus.net
Squamish
WHEN: Sunday, March 26, 1 P.M. to 3 P.M.
WHERE: Highway 99 Overpass near London Drugs, Garibaldi Highlands
HOST: Tracey Saxby, tracey@myseatosky.org
Gibsons
WHEN: Sunday, March 26, 2:30 P.M.
WHERE: Gibsons Way & North Road intersection
HOST: Alexandra Woodsworth, alexandra@dogwoodbc.ca
Hosts will bring the banners - all you need to do is show up, and bring a friend or two if you can!
If you can't make it this time but want to get plugged in, please join the growing Frack Free BC movement at our next welcome call, coming up on Monday, April 3 at 5:30 P.M. PT. RSVP here to get the Zoom link!
There's been an incredible response to this day of action - there are more than 120 poster and banner actions planned this weekend across the province! It's going to make a huge splash, and I hope you'll all be part of it!
In solidarity,
Tracey Saxby
Executive Director
My Sea to Sky
P.S. Looking for more info on Frack Free BC and what this day of action is all about? Check out the toolkit here.
My Sea to Sky is incredibly proud and grateful to say that we rely on the My Sea to Sky community for small donations that provide the majority of our funding. Since our launch in 2014, we have been funded through personal savings, family and friends; and powered by the passion of our volunteers. Your generous contribution will help us to run our critical campaigns to defend, protect, and restore Howe Sound. Can you chip in?