Feel-good Howe Sound updates on Earth Day
April 22, 2019
Tracey Saxby
Happy Earth Day! We thought we'd celebrate by sharing some incredible good news stories about Howe Sound.
*****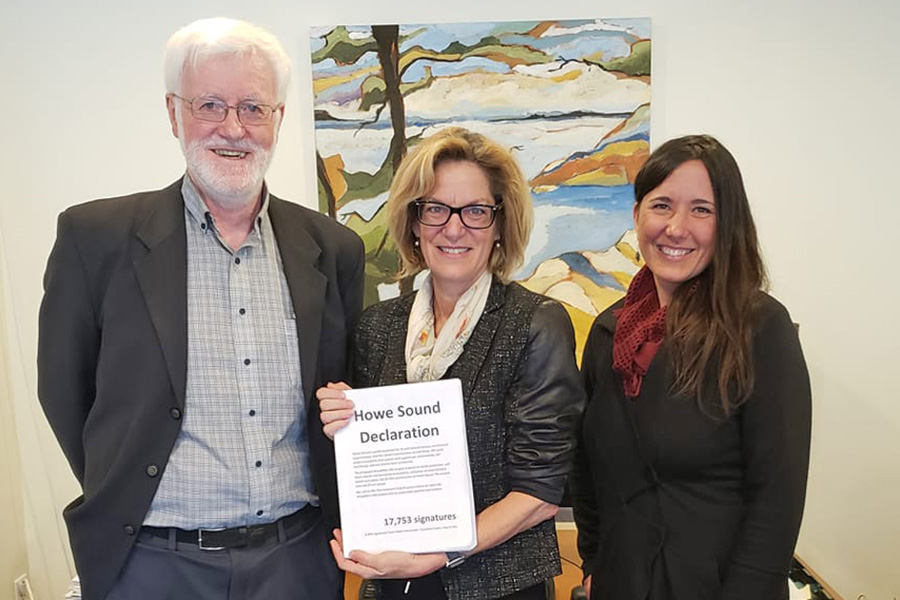 Eoin Finn and Tracey Saxby deliver the Howe Sound Declaration to MP Pamela Goldsmith-Jones.
18,000 signatures on the Howe Sound Declaration delivered
Last week we delivered the Howe Sound Declaration with almost 18,000 signatures to MP Pamela Goldsmith-Jones, to ask her to help #StopWoodfibreLNG. We will be delivering the declaration to several MLAs and MPs in the next few months, and our goal is to hit 20,000 signatures. If you haven't signed already, add your signature now!
SEE OUR LIVE VIDEO UPDATE ON FACEBOOK
SIGN THE HOWE SOUND DECLARATION
*****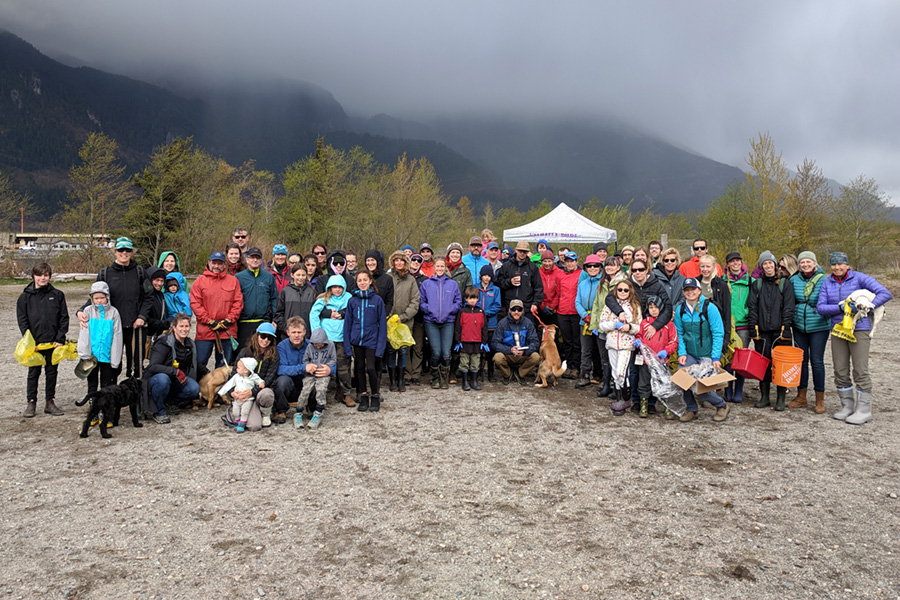 Volunteers at the Squamish Estuary cleanup. Photo by Bridget John.
Volunteers help to clean up Howe Sound #TrashTag
Let's take a moment to celebrate the amazing volunteers that have been pitching in to clean up Howe Sound following a winter of severe wind storms. People in communities all around Howe Sound have been collecting debris (including bags and bags of styrofoam!) and acting as stewards of this beautiful place we all call home. Thank you! And a big thank you to Ruth Simons from the Future of Howe Sound for coordinating efforts!
READ THE REPORT BY FUTURE OF HOWE SOUND
*****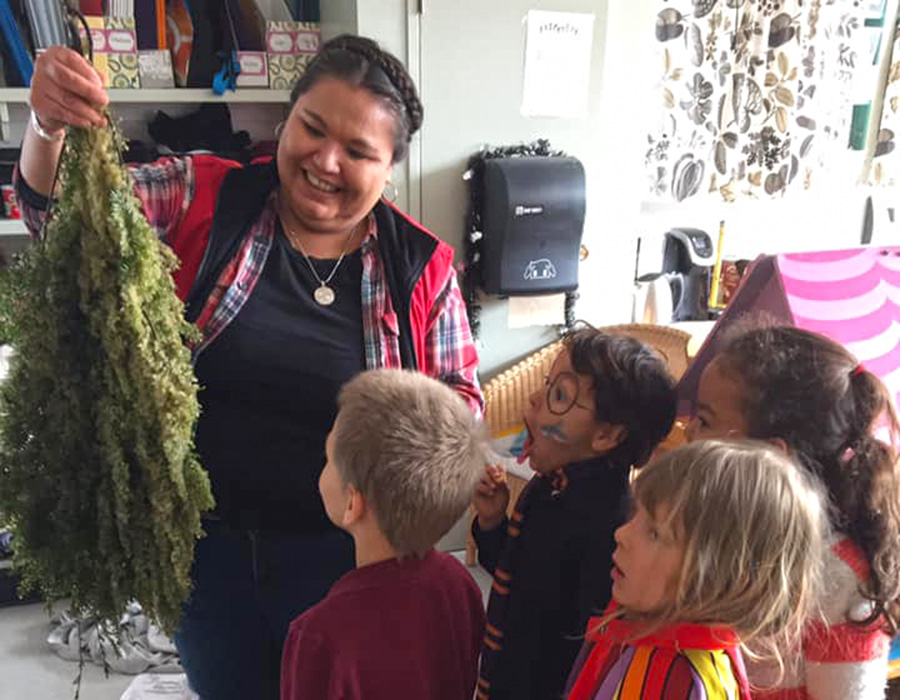 Charlene Joseph shows students a hemlock bough covered in herring roe. Photo provided by Charlene Joseph.
Herring roe harvested in Howe Sound for first time in a century
As Atl'Kitsem (Howe Sound) is coming back to life, the traditional cultural practice of harvesting Ch'em'esh (herring roe) using hemlock boughs is being revived, thanks to the efforts of Squamish Nation elders and Cultural Journeys. "Herring and their eggs were an integral part of our traditional diet. The Skwxwu7mesh word for March is Temlhawt, meaning Herring Time," Charlene Joseph explains.
*****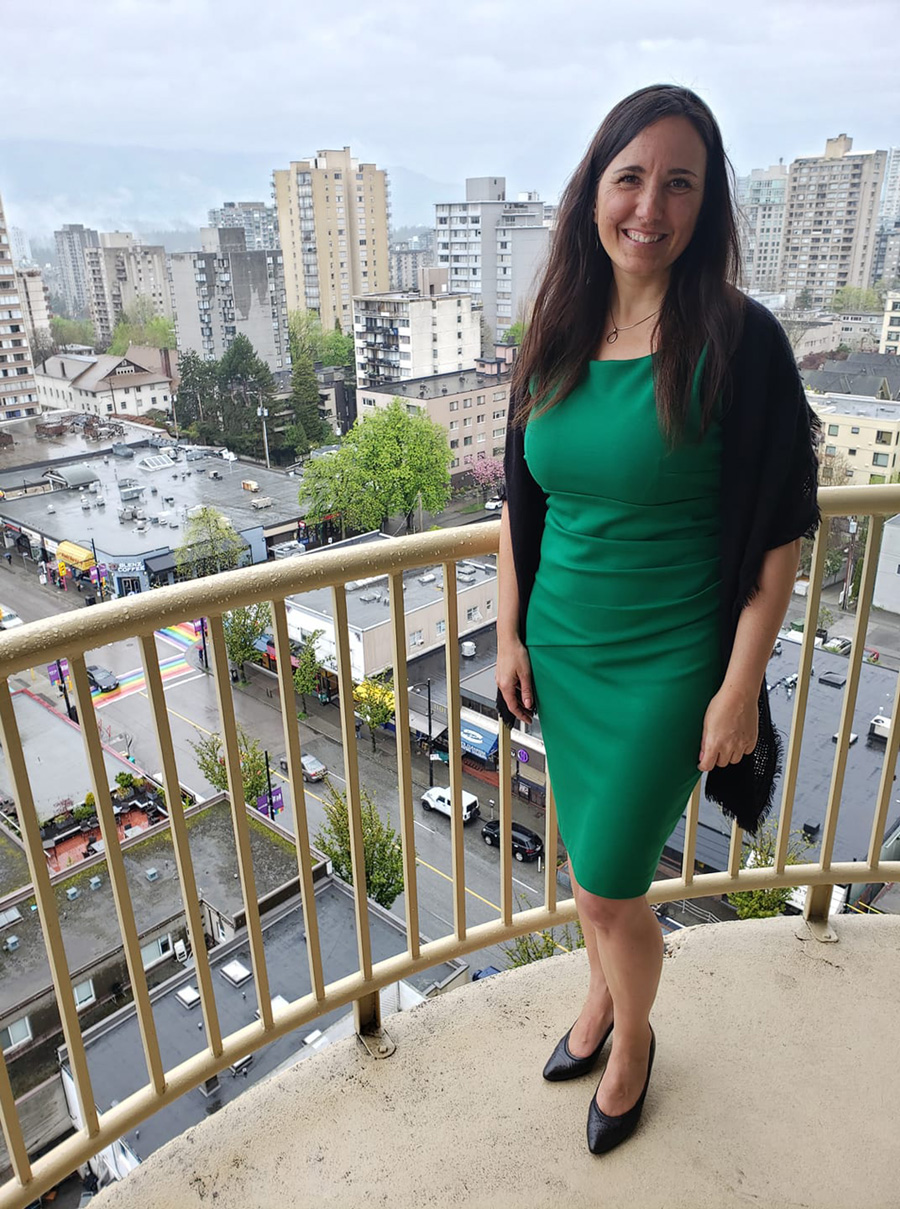 Congratulate Tracey Saxby for her nomination!
Please join me in congratulating our fearless leader and co-founder, Tracey Saxby, who has been nominated for the Social Change Award for the 2019 RBC Canadian Women Entrepreneur Awards. Tracey is a visionary changemaker who has fostered My Sea to Sky from the ground up, building a community that is now 10,000 strong! She inspires and empowers all of us, and we thank her for the light and hope she brings into the world.
Send your congrats to Tracey via Facebook or Twitter or Instagram, or you can also reply to this email with a personal note.
*****
Happy Earth Day!
The My Sea to Sky team
P.S. Eoin Finn and Tracey Saxby are heading to the Squamish Lillooet Regional District on Thursday to ask that the proposed work camp at Britannia Beach not be approved until it is properly assessed by the BC Environmental Assessment Office. You can help by sending a personalized letter to the directors to share your concerns. LEARN MORE HERE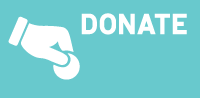 My Sea to Sky is incredibly proud and grateful to say that we rely on the My Sea to Sky community for small donations that provide the majority of our funding. Since our launch in 2014, we have been funded through personal savings, family and friends; and powered by the passion of our volunteers. Your generous contribution will help us to run our critical campaigns to protect Howe Sound. Every dollar helps.