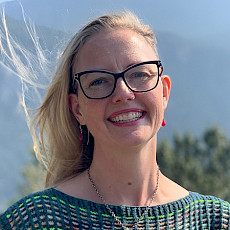 About
Q: How many years have you lived in Squamish?
A: 4
Q: Which neighbourhood do you live in?
A: Valleycliffe
Learn more: Squamish Chief's Q&A
Proposed industrial projects
The next elected council will have decision-making authority over several aspects of proposed industrial projects. All of these projects will have social, environmental, and climate impacts. What is your position on:
FortisBC pipeline: oppposed
Why: I am in favour of supporting only safety upgrades to existing pipelines. I am against pouring our economic resources in to infrastructure for a dying industry. It's like investing in carriages after the model T became popular. We MUST get off of oil and gas. Wasting our valuable resources to increase production and dependence on fossil fuels through investing in subsidized infrastructure will compound an already out of control problem. The science is clear and there is overwhelming consensus: we simply must get off of fossil fuels. I am also curious about who is paying for this pipeline. I would like transparency on the cost breakdown of construction and where the money is coming from. How much of this pipeline are existing customers paying for? These suggested pipelines will be supporting LNG for export, which is not of benefit for us regionally. I'd like to see who is footing the bill.
FortisBC workcamp: opposed
Why: I am opposed to oil and gas infrastructure upgrades, which would inherently make me opposed to a workcamp. If a workcamp is put in place, I will support informed measures to minimize inconveniences, disruptions and dangers to our community.
Woodfibre LNG: opposed
Why: The world needs to wean off of fossil fuels, money poured in to infrastructure for a dying industry instead of being put toward jobs in renewable energy, the environmental + health legacy of fracking, the carbon footprint of fracked methane (LNG) is not much lower than coal- especially with extensive shipping, risky shipping routes, disruptions to the community during the years of construction, damage to ecosystems of the estuary and the sound, Shipping through a UNESCO world heritage site with rare glass sponge reefs, the upsides for Squamish are limited and may be misrepresented, LNG is largely economically viable because it's production AND cleanup is heavily subsidized by tax payers (read: us) on the provincial and federal level to the tune of billions of dollars annually, and that money should be put to climate change solutions, education, healthcare and creating jobs in renewable energy instead of corporate welfare.
Woodfibre LNG's "floatel": opposed
Why: I am opposed to oil and gas infrastructure upgrades, which would inherently make me opposed to a workcamp. If a workcamp is put in place, I will support informed measures to minimize inconveniences, disruptions and dangers to our community.
Proposed development projects
The next elected council will determine whether these development projects proceed or not. All of these projects will have social, environmental, and climate impacts. What is your position on:
Cheema Lands: opposed
Why: My understanding is that the goal post for the Cheema lands was effectively moved when council, with a lot of public input, completed the last OCP. Cheema had been told they could develop at population 22,500, now with the OCP (again- a document created with the community's feedback), this has been pushed back. This is obviously not what someone looking to develop wants to hear, but it is in line with what people in the community want in terms of development, and I think it's important to listen to our constituents. I understand that this is inconvenient and I appreciate the patience Cheema has shown. When the time comes to develop district lots 509/510 I look forward to hearing what they propose to do with their development. I think there is a lot of potential to do something of real value to the community in that area when the criteria are met.
Garibaldi at Squamish: opposed
Why: There is a lot of work to be done to make Garibaldi at Squamish a feasible project. There are concerns about their utilities, for instance, and the need for the project to basically tie in to a municipality for support, the most obvious one being Squamish. GAS will be in need of water, sewage, power, snow removal, garbage collection, etc- all of which adds up to big bills for Squamish. In order to take on that risk, we would need to ensure GAS pays for itself in perpetuity, otherwise it could be a huge financial risk to our community, that frankly: we can't afford.
North Crumpit: opposed
Why: I would like to see more environmental assessments done on the project area. I have concerns about the disruptions to wildlife habitat, including the watershed and the destruction of recreational trails. I would like to see a summary of all of the residential units we have coming down the pipeline and how we are going to support them with our current infrastructure before we have too many conversations about greenfield development. A lot of greenfield development are being proposed for Squamish and I think we need to be smart about the long and short term benefits and detriments of each project, and have some hard conversations about what our current infrastructure can support.
Climate Action commitments = 16/16
Invest in active transportation networks to make biking and walking safer and more accessible?
Support higher density infill development along existing and proposed transit networks to promote walkable and livable communities?
Advocate for regional public transit and invest in local public transit?
Implement policies to reduce greenhouse gas emissions in buildings, for example, incentivize fuel switching from gas furnaces to electric heat pumps through rebates for homeowners?
Advocate for the Provincial Government to enable local governments to ban new gas hookups in buildings?
Support Neighbourhood Planning to collaborate with citizens, not developers, in the future development of their neighbourhood?
Make land use decisions that protect and restore natural areas, ensure habitat connectivity, and avoid urban sprawl?
Protect natural assets (forests, wetlands, shrublands, grasslands, estuary, aquifers, ponds, lakes, creeks, and rivers) identified in the 2022 Natural Asset Management Strategy, which provide ecosystem services valued at more than $1.6 billion?
Support efforts to implement a Biodiversity Conservation Strategy and use this to inform development guidelines and neighbourhood planning?
Increase local food security by supporting local agriculture and community gardens?
Implement zero waste bylaws to divert organic waste from the landfill and support the development of a circular economy as part of a zero waste strategy?
Review the deconstruction bylaw to ensure it is meeting its goal to eliminate waste from renovation and demolition projects?
Support further study on local distributed energy systems powered by 100% renewable energy to build community resilience over time?
Adopt the Doughnut Economic Model as a guiding principle for all District initiatives and planning? (see Nanaimo example)
Endorse the fossil fuel non-proliferation treaty?
Join the campaign to Sue Big Oil and set aside $1 per person to file a class-action lawsuit to recover a fair share of our climate costs?
Transparency and Accountability
Q: Are there any particular issues where you would have to declare a perceived conflict of interest or recuse yourself from Council discussion on an issue? Please list:
A: No.
List of current donors
Me! So far I have spent $1,600 of my $2,500 budget.
This information was compiled and presented by: