Why Woodfibre LNG still needs to be an election issue in 2018
September 29, 2018
Tracey Saxby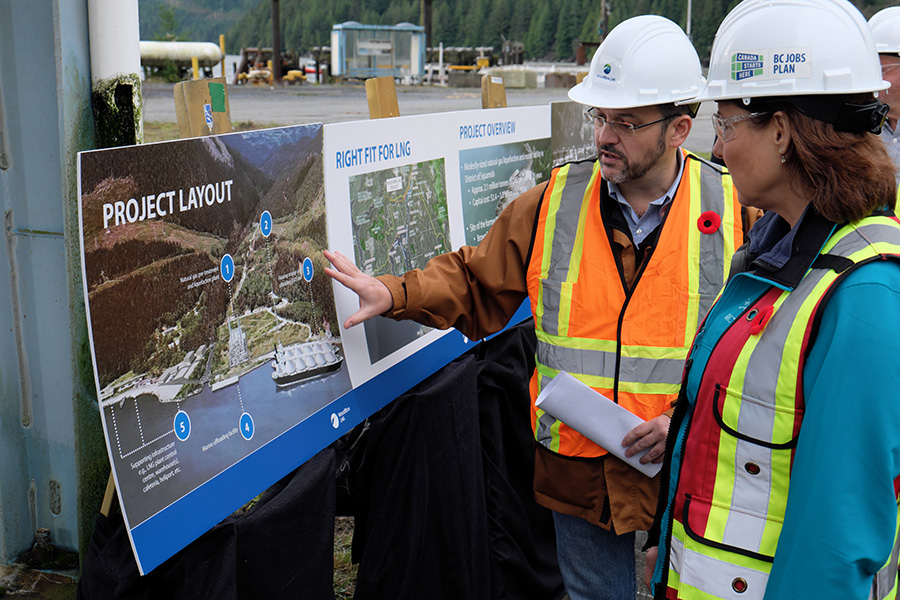 Many people have been arguing that Woodfibre LNG should not be an election issue, however here are four reasons why we believe it needs to be:
1. Municipal taxes
Woodfibre LNG (WLNG) has refused to discuss municipal taxes with the District of Squamish. In 2014, WLNG proposed paying $2 million in taxes which is what the pulp mill used to pay until it closed in 2006. We successfully lobbied the council to reject this offer as land values had increased significantly and an LNG facility is valued much higher than a pulp mill.

Since that time, BC Assessment Authority has estimated that WLNG will pay $5–7 million in municipal taxes every year, and we need to ensure that whoever gets elected to council (whether or not they support LNG) makes sure that WLNG pays their fair share. We are very concerned that some pro-LNG councillors may try to "cut a deal" with Woodfibre LNG and reduce the municipal taxes that they should pay.
If we are going to deal with safety risks, doubling our local greenhouse gas emissions, local air pollution, noise pollution, and environmental impacts to fish, marine mammals, and seabirds—in addition to many other impacts to our community—then we need to ensure that Squamish receives the maximum amount of municipal taxes that should be paid by WLNG.
2. Darrell Bay
Woodfibre LNG is asking for exclusive use of Darrell Bay for four years, to bring in busloads of workers from Vancouver during the construction phase of the project and conduct security screening of their employees.
Darrell Bay is public land, and is currently used by several other local businesses. There is a competing proposal to make Darrell Bay much more valuable as a public asset, with additional parking, a park, and a passenger ferry to downtown.
Why should the general public and these other businesses lose access to Darrell Bay for four years, solely benefitting WLNG? And will it only be four years? WLNG has continually overpromised and under delivered. In 2015, WLNG promised that construction would be two years. They've already delayed the start of construction by several years—their original documents suggested construction would begin in 2015, then 2016, 2017, 2018, and now they're saying construction will begin in 2019. But will it really?
And what about time overruns? LNG projects in Australia have experienced cost overruns and time overruns. Why would WLNG be any different? If they negotiate sole access to Darrell Bay, how long will the public lose access to this site? And is that fair? We're losing the boat launch downtown, how will the public access the ocean if we also lose access to Darrell Bay?
3. FortisBC pipeline and compressor station
Whoever is elected to council will influence who represents Squamish on the Squamish Lillooet Regional District (SLRD). Any decisions regarding the proposed FortisBC pipeline and compressor station are through the SLRD, and we are very concerned about the current lack of an emergency plan, given that there is only one road into and out of Valleycliffe, and the proximity of the compressor station to two schools and our backup water infrastructure. If there is a worst-case scenario accident, what are the possible outcomes? What will happen if that accident occurs when we are experiencing extreme fire danger? None of these concerns have been adequately addressed by FortisBC.
4. Advocating for safety of Squamish residents with Provincial and Federal governments
If and when Woodfibre LNG makes a financial investment decision and begins construction, we have very serious concerns about the safety of the proposed floating storage unit (FSU), and the lack of oversight as the FSU is constructed, as Woodfibre LNG is planning to construct the FSU overseas by retrofitting two decommissioned LNG tankers.
We will be asking whoever is elected to council to lobby the Provincial and Federal governments to ensure that all safety regulations are met, and advocate for the safety of Howe Sound residents.
Council (or the SLRD) will need to vote on all of these upcoming issues related to Woodfibre LNG. This is why it's important to understand where each candidate stands on this project, their history, and any potential conflicts of interest before you vote.
Like what you read? Please consider chipping in to help us #StopWoodfibreLNG.