Where did all the LNG jobs go?
March 5, 2015
Tracey Saxby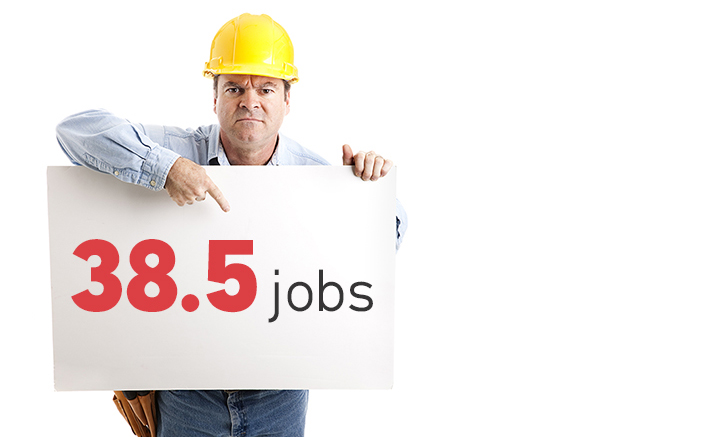 We were told LNG would bring us local jobs. It's all about the jobs right?
But where have all those promised LNG jobs for locals gone? Looking at the Labour Market section of Woodfibre LNG's environmental assessment application, they've all but disappeared.
During construction, only 4.3% of jobs will be for locals living in the Squamish/Whistler corridor (Table 6.2-8). The rest of the jobs are actually going to folks in Metro Vancouver, other areas of BC or Canada, and overseas. Deals have already been signed with foreign workers and foreign companies. Most of the construction is happening overseas.
Table 6.2-8 is difficult to understand, for while it looks like 4.3% of jobs for locals equals 77 full-time jobs, that number is the sum of jobs per year, over two years. So there are really only 38.5 jobs for Squamish locals each year during the two-year construction phase out of the 895 estimated jobs (page 6.2-24).
But what about once the plant is up and running? There are 100 full-time jobs up for grabs then right? Well, that's also not clear. The application states that an estimated 70% of jobs will be filled within the Metro Vancouver/Sea-to-Sky corridor (page 6.2-28), but exactly how many of those jobs will be for Squamish locals isn't specified. It's also not clear whether the workers will live and work in Squamish, or just within the Metro Vancouver/Sea to Sky region. Woodfibre LNG has already located its head office in Vancouver rather than Squamish.
So where are the jobs? According to a report by CRED, the province's biggest employers are:
Construction (205,000 jobs)
Manufacturing (164,000 jobs)
Tourism (127,000 jobs)
Real estate and property development (121,000 jobs)
High tech sector (84,000 jobs)
Film sector (36,000 jobs)
In comparison, the mining, oil and gas sectors employ just 1% of BC's workforce (25,000 jobs), BUT these sectors threaten jobs in several other sectors, particularly in tourism.
This is not about tourism vs. industry – far from it. We totally support industries that provide good, high-paying jobs that will contribute to our collective wealth and well-being.
LNG won't do that. LNG won't bring back the "good ole days" for Squamish either, when the pulp mill employed up to 750 locals. Instead, the handful of jobs that are promised by Woodfibre LNG are heavily outweighed by the potential damage to our local economy as a whole, not to mention the safety risks and environmental damage.
Who still thinks this is a good idea?