What is next? Woodfibre LNG in Howe Sound
April 6, 2015
Ruth Simons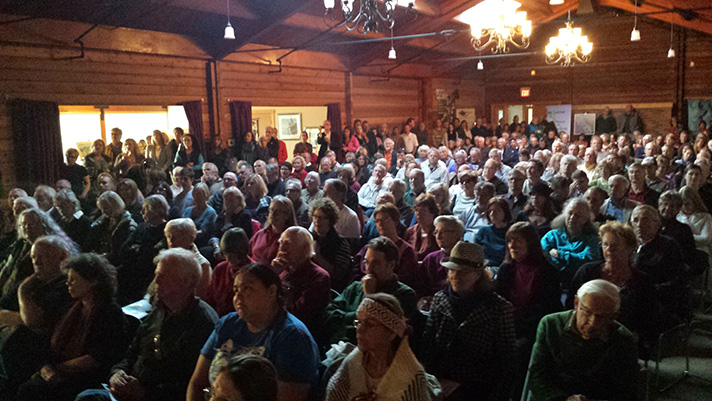 Now the window of opportunity to provide comment to the BC Environmental Assessment office (BC EAO) about the Woodfibre LNG project is closed. What happens next and what can people do?
1,700 or more comments were submitted, including those from Future of Howe Sound – Woodfibre LNG Comments. The BC EAO now has to consider the common themes while the proponent responds to each of the comments made. The scrutiny over the proponent's application is now in the hands of the Working Group committee members and the Environmental Assessment officers. It is expected that the recommendations to approve the application and list of conditions will be before the provincial cabinet ministers by mid-July with a decision by cabinet in August, unless the process is suspended by the proponent. An investment decision has yet to be made by the proponent; their decision has been delayed until the fall. There are many more regulatory hurdles to overcome, but as the process goes, the public has no more formal say in the project.
Dr. Eoin Finn has become well known for being a credible critic of the project and committing his time and energy voluntarily to inform as many people as possible about why the public should be concerned. Dr. Finn's most recent presentation April 1st in West Vancouver will be available by video soon, and previous presentations can be found on YouTube. Dr. Finn received a standing ovation from the 250 plus people in the room on April 1st, 2015. Audience members expressed their appreciation for Dr. Finn's extensive research and frank common sense assessment of proponent's complex application. His Irish humor and apropos quotations appealed as well. Meanwhile, the provincial government and the proponent's public relations campaigns will continue to counter points of public concern, but until the many regulatory bodies have given this project a pass, the facts will be in dispute and the social license outstanding. With LNG tankers now being allowed by Port Metro Vancouver to refuel and anchor in English Bay, more and more people become affected and at risk.
Future of Howe Sound Society supports dialogue and encourages engagement in the issues threatening the recovery of Howe Sound. Our recent event at the Gleneagles Golf Course Club House drew a crowd of over 250 citizens who came to learn about how Woodfibre LNG would affect them. It was a dynamic collaboration between volunteer groups who are working to ensure a strong future for Howe Sound. Concerned Citizens of Bowen Island, Skwomesh Action members of the Squamish Nation (who organized a march with 560 or so followers on March 29th), Squamish based My Sea to Sky organization, and many individuals from around Howe Sound played a role in making this a community based, entertaining and informative event. The generosity of over 70 organizations and individuals who donated items for the silent auction was an overwhelming example of how much people care for Saving Howe Sound, Again. Wade Davis volunteered to provide opening remarks, Stephen Foster shared rare film footage from CBC archives to remind everyone of how remarkable the recovery of Howe Sound has been.
Though the official comment period is closed, there are ways for concerned citizens to engage. First step is to become informed – read the Woodfibre LNG information, read the concerns, sign up on social media to follow the latest information. Discuss with your friends and neighbors, talk and write to your elected representatives, participate or start your own event. Donations in support is always helpful to these volunteer groups. Email us if you wish to learn more about how to get involved info@futureofhowesound.org.
Recent media links:
Vancouver Observer - Storm of opposition against Howe sound LNG plan gathers in West Van
North Shore News – Woodfibre LNG Concerns Aired
NOTE: This post was originally published on the Future of Howe Sound website on April 3rd.