Squamish votes 5-2 to Sue Big Oil
October 28, 2023
Malika Bindra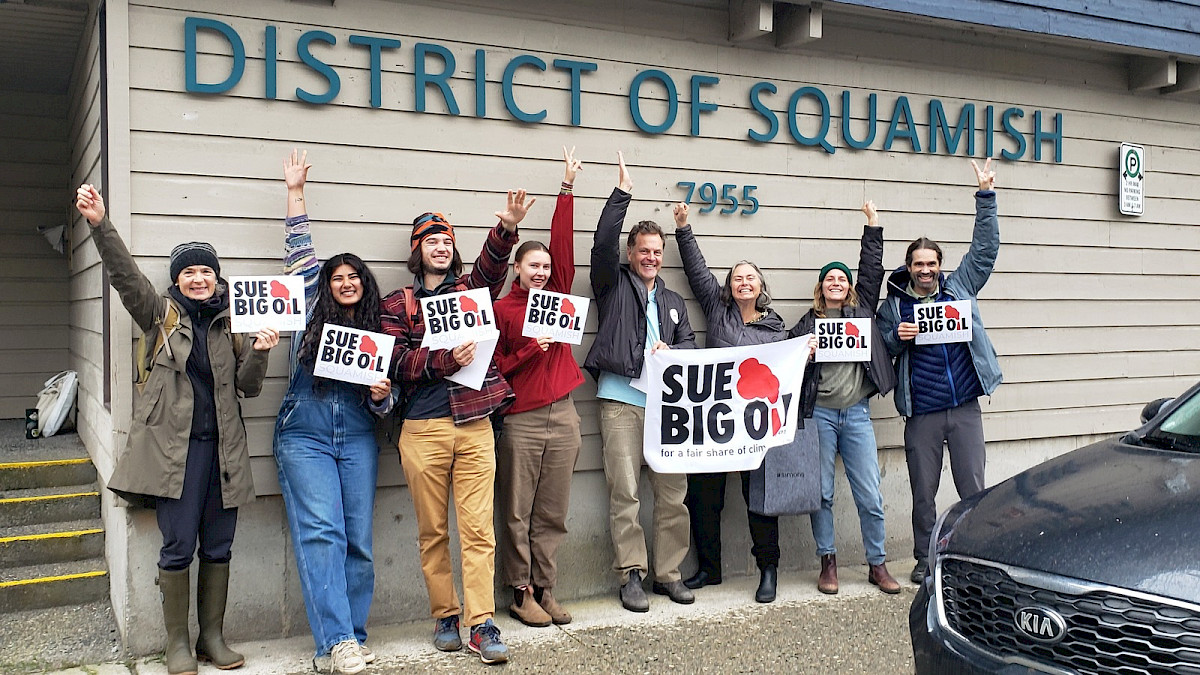 We have some exciting news to share with you!
They said yes!
Squamish Council, sitting as the Committee of the Whole, voted 5-2 to join Sue Big Oil—a class-action lawsuit against global fossil fuel companies to recover a fair share of climate costs.
This makes Squamish the third local government in British Columbia to sign on to the lawsuit, building momentum for the Sue Big Oil campaign by our friends at West Coast Environmental Law.
The lawsuit would seek to recover a share of the millions of dollars that the District of Squamish must spend on dikes, wildfire prevention, water management, and other climate-related costs, rather than passing those costs entirely on to residents.
We extend our heartfelt gratitude to the District of Squamish for its climate leadership and determination to recover the significant costs of climate pollution caused by the fossil fuel industry.
Read the Vancouver Sun and Squamish Chief articles.
Then take a moment to send a thank you letter to Mayor and Council.
SEND A LETTER
Why this matters
For decades, oil and gas corporations have known that burning fossil fuels would cause the heat waves, wildfires, drought, and flooding that we're now experiencing in BC.
These multinational companies spent millions to deceive, deny, and distract us to prevent action on climate change, while they raked in billions in profit.
How do we pay for a safer and healthier future for all British Columbians? We must force oil and gas corporations to pay their fair share for the harm they are causing.
That's why we called on the District of Squamish to join with other local governments to file a class action lawsuit to recover a fair share of our climate costs.
Fiscal responsibility in action
It is already costing Squamish millions of dollars to pay for dike upgrades and wildfire preparedness, among other climate-related expenses.
Allocating $1 per person (~$25,000 in total) to join other local governments in a class-action lawsuit is the fiscally responsible choice to ensure that companies like Shell, Chevron, and ExxonMobil are held accountable for their fair share of these climate costs, not municipal taxpayers.
Joining forces for justice
Squamish now stands alongside the Townships of Gibsons and View Royal, collectively committed to bringing a class action lawsuit against global fossil fuel companies. The Sue Big Oil campaign continues to gain momentum, with volunteer action teams across the province urging their local governments to join this critical legal action.
This is a bold step towards holding big oil and gas accountable.
*******
Today we celebrate a big win. Please take a moment to send an email to mayor and council and thank them for their climate leadership!
SEND A LETTER
Malika Bindra
Community Organizer
My Sea to Sky

P.S. Last week we announced that we're partnering with Sunshine Coast Conservation Association to overturn project approvals for Woodfibre LNG and FortisBC, and hold the Federal and Provincial governments to account. We've put together a kick-ass legal team and we currently have two legal actions underway.
In less than a week, 88 generous donors have raised over $18,540 and we're well on the way to our goal of $100,000. Please chip in if you can!
My Sea to Sky is incredibly proud and grateful to say that we rely on the My Sea to Sky community for small donations that provide the majority of our funding. Since our launch in 2014, we have been funded through personal savings, family and friends; and powered by the passion of our volunteers. Your generous contribution will help us to run our critical campaigns to defend, protect, and restore Howe Sound. Can you chip in?