Our plan to overturn Woodfibre LNG's five-year extension
October 29, 2020
Eoin Finn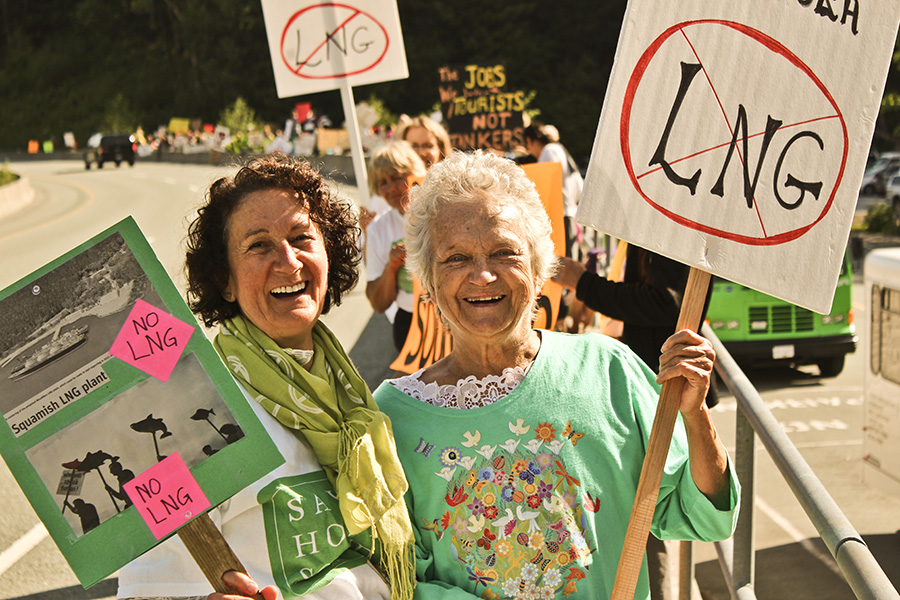 Our very first demonstration to #StopWoodfibreLNG in 2014. Photo: Desiree Wallace
I remember our very first demonstration to #StopWoodfibreLNG, in May 2014. Over a hundred of us lined up along the highway and cars honked in support as they drove by.
That day, we stopped Premier Christy Clark from attending a scheduled event in Squamish. Together, we have power. You have power.
We need you to stand with us right now.
Woodfibre LNG's 5-year extension was approved with no conditions.
In case you missed it, the BC environmental assessment office (BC EAO) has rubber stamped Woodfibre LNG, again, granting a 5-year extension on its environmental assessment certificate with no added conditions. None.
The BC EAO completely ignored the recommendations from local governments calling for conditions to be added to hold Woodfibre LNG accountable for its greenhouse gas emissions. The BC EAO also failed to take into consideration changes to science and policy that would result in a different decision today.
We're going to fight it.
We will be seeking a judicial review to overturn this decision.
But before we can commit to a judicial review, we need to raise $20,000 in the next two weeks.
We have been absolutely blown away by the generosity of our supporters, who have donated over $8,000 in less than 48 hours. Thank you!
Can you chip in so we can continue to fight Woodfibre LNG? Please consider making a monthly donation to support our critical work to #StopWoodfibreLNG and pursue a judicial review.
We do not want this dangerous LNG export facility in Howe Sound / Átl'ḵa7tsem, which puts the health and safety of our communities at risk.
The market for LNG has crashed as the world moves away from fossil fuels. So why are we propping up Woodfibre LNG with massive tax breaks and subsidies?
This is an irresponsible and reckless decision by the BC Environmental Assessment Office.
We're not going to stop until we #StopWoodfibreLNG for good.
Please donate so we can continue the fight.
Eoin Finn
Chair, My Sea to Sky
My Sea to Sky is incredibly proud and grateful to say that we rely on the My Sea to Sky community for small donations that provide the majority of our funding. Since our launch in 2014, we have been funded through personal savings, family and friends; and powered by the passion of our volunteers. Your generous contribution will help us to run our critical campaigns to defend, protect, and restore Howe Sound. Can you chip in?