Help protect the inlet on March 10th
March 4, 2018
Tracey Saxby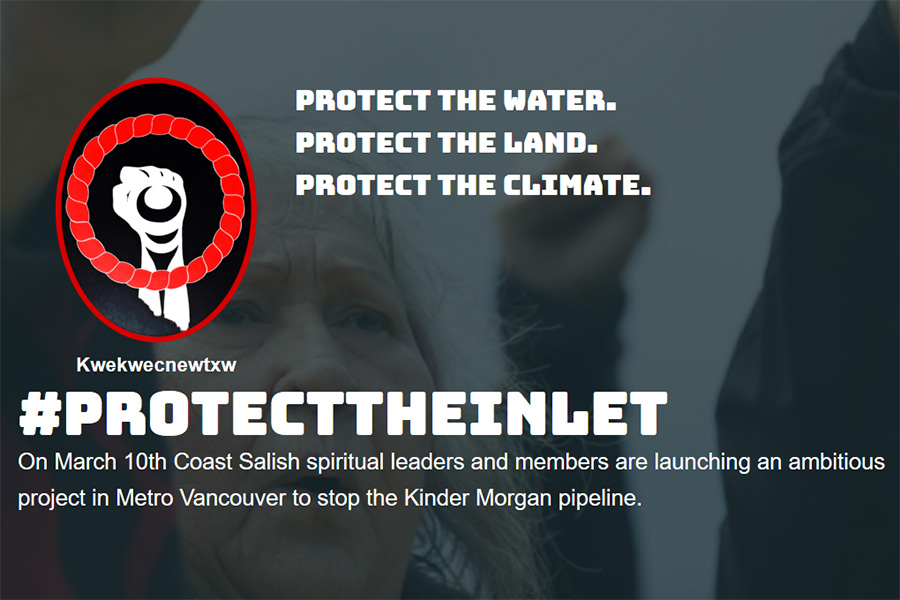 On a recent visit to B.C., Justin Trudeau stated that unless the Kinder Morgan pipeline goes ahead, "We won't get the Oceans Protection Plan investments. We won't get a national price on carbon and we would never meet our Paris targets [on reducing carbon emissions]."
This is blackmail.
The Ocean's Protection Plan should not be tied to the Kinder Morgan pipeline. Especially given that Kinder Morgan owns 50.9% shares of Western Canada Marine Response Corporation, an industry-funded private company that was recently called upon to clean up the diesel spill in Howe Sound alongside the Canadian Coast Guard. Our oceans deserve better.
It's also ludicrous. We're going to build new fossil fuel infrastructure so we can meet our Paris climate targets and get a carbon tax? That's not the way to deal with our current climate crisis. Climate leaders don't build pipelines.
That's why we've decided to stand in solidarity with members of the Tsleil-Waututh Nation that have issued a call to action to Protect the Inlet on March 10th:

" ...we are asking you to stand with us in our defence of the lands and waters. Our members, spiritual leaders, and youth will be on the land practicing our culture and spirit as we have for time immemorial. We will use our presence to stop Kinder Morgan. It is time for you to join us and do whatever it takes to stop Kinder Morgan. Join Kwekwecnewtxw and stand with us to Protect the Inlet."
This is history in the making. Will you join us? Nearly 6,000 people have already signed up.
WHEN: Saturday, March 10th, at 10:00 a.m.
WHERE: Lake City Way Skytrain Station, Burnaby BC, on Unceded Coast Salish Territories
Our coast and our climate are at risk. We hope to see you on Saturday to support Indigenous communities and #ProtecttheInlet.