Heart of Howe Sound: the Paddleboarders
December 21, 2022
Norm Hann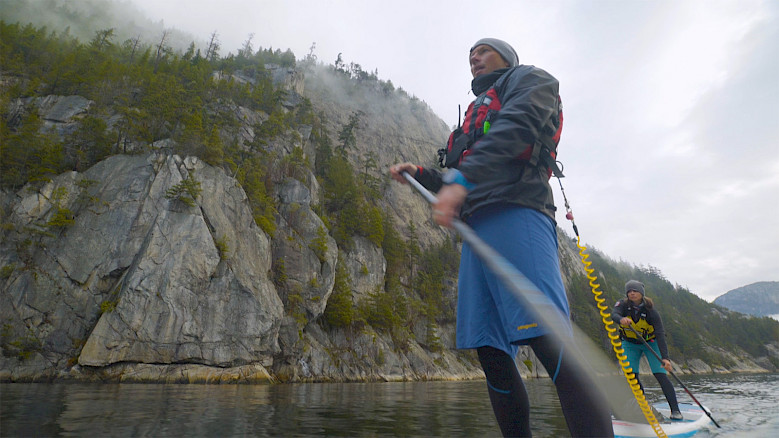 Paddleboarding on the waters of Átl'ḵa7tsem / Howe Sound has allowed me to have such an intimate perspective of this unique ecosystem. The paddleboard is the perfect tool to connect to the environment, and experience the breathtaking beauty and return of wildlife to the sound.
To me, the recovery of Átl'ḵa7tsem / Howe Sound is inspiring and hopeful. One of the biggest things is the return of herring, which are a critical link in the food chain.
In the last ten years, we've seen the herring come back, the fish come back, and Pacific white-sided dolphins come back. We're starting to see transient orcas in Átl'ḵa7tsem / Howe Sound, an apex predator that is a key indicator that the sound is recovering.
Just last week, J-Pod was spotted off Bowen Island. It's rare for these Southern Resident Killer Whales to be sighted in Howe Sound, and it's likely that they're feeding on chinook salmon.
If we continue to protect this place, I believe we'll all be blown away by the wildlife that is coming back.
Help us to protect Átl'ḵa7tsem / Howe Sound
This #GivingDecember, a wonderful local family will match your donation to My Sea to Sky.
More than 50% of My Sea to Sky's funding comes from people that live in the communities around Átl'ḵa7tsem / Howe Sound. We've already raised an incredible $20,000. Can you chip in to help us reach our goal of $35,000?
This next year will be critical for Átl'ḵa7tsem / Howe Sound. Your generous gift will ensure that My Sea to Sky can continue to defend, protect, and restore Átl'ḵa7tsem / Howe Sound and its precious watershed.
Every gift helps, large and small. For gifts over $1,000 please email delena@myseatosky.org to arrange payment.
Yes! Please double my one-time gift!
Átl'ḵa7tsem / Howe Sound has a magic. It really is a spectacular place to see from the water and experience from the water.
Thank you for helping to protect it.
Norm Hann
Paddleboarder, coach, and advocate for Átl'ḵa7tsem / Howe Sound
Volunteer for My Sea to Sky

My Sea to Sky is incredibly proud and grateful to say that we rely on the My Sea to Sky community for small donations that provide the majority of our funding. Since our launch in 2014, we have been funded through personal savings, family and friends; and powered by the passion of our volunteers. Your generous contribution will help us to run our critical campaigns to defend, protect, and restore Howe Sound. Can you chip in?