Celebrate Átl'ḵa7tsem / Howe Sound
June 5, 2021
Minna Koskela-Wild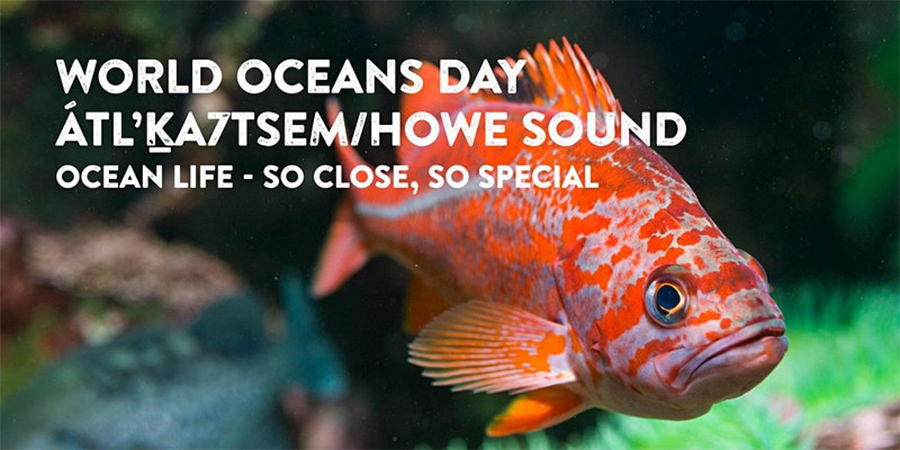 There is something magical about Átl'ḵa7tsem / Howe Sound.
Whether I'm exploring the shoreline or out on the water, I am always in awe of the life above and below the waves. I love spotting seals and sea lions, or the colourful sea stars that are now returning to Howe Sound's waters.
This Tuesday is World Oceans Day: a day that allows us to reflect on the importance of these vast and amazing bodies of water that connect us.
I am very happy to announce a series of wonderful collaborative events to celebrate this special place where the mountains and rivers meet the sea.
Celebrate Howe Sound/Átl'ḵa7tsem 2.0
Check out the launch of two incredible online maps, with videos and stories from some of this region's ocean champions.
WHEN: 7pm - 8pm, Monday 7th June, 2021
HOSTED BY: Howe Sound / Átl'ḵa7tsem Marine Reference Guide
World Ocean's Day: student presentation
Explore the habitats that make Howe Sound so unique, from the estuary to the glass sponge reefs. Featuring an introduction by Mayor Karen Elliott, and My Sea to Sky will announce the winners of the Howe Sound Art Challenge.
WHEN: 9am - 10am, Tuesday 8th June, 2021
HOSTED BY: Ocean Wise, Blue Mar 4 Change, and Howe Sound Biosphere Region Initiative
Glass sponge reefs and the amazing underwater world
Join Sheila Byers, a Marine Biologist with Marine Life Sanctuaries Society (MLSS) in a deep-sea exploration of Howe Sound in the discovery of ancient glass sponge reefs and juvenile six-gill sharks that lurk in the darkness.
WHEN: 7pm - 8:15pm, Tuesday 8th June, 2021
HOSTED BY: Howe Sound Biosphere Region Initiative
Blue Mar 4 Change Ocean Toolkit
This toolkit will go live on World Oceans Day with inspiring stories, messages of hope, resources, tools, and ways to connect and deepen our awareness of Átl'ḵa7tsem / Howe Sound.
OCEAN TOOLKIT (available on 8th June 2021)
I hope you can join us.
With wonder,
Minna Koskela-Wild
Volunteer, My Sea to Sky
Founder of Blue Mar 4 Change
My Sea to Sky is incredibly proud and grateful to say that we rely on the My Sea to Sky community for small donations that provide the majority of our funding. Since our launch in 2014, we have been funded through personal savings, family and friends; and powered by the passion of our volunteers. Your generous contribution will help us to run our critical campaigns to defend, protect, and restore Howe Sound. Can you chip in?