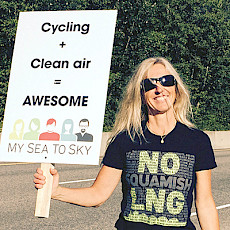 Delena Angrignon
Student of life. Curious. Outdoor enthusiast.
Co-Founder, Admin / Finance, past Board member (2014 to 2017)
Delena and her husband moved to Squamish in 2005 as the old Woodfibre pulp mill was shutting down. It was the beginning of a town going through a revitalization.
They have spent years running the trails, climbing the mountains, and paddling in the local waters of Howe Sound, and have grown to appreciate the gift of living in an area of the world that has clean water and air.
In 2014 after years of enjoying the privilege of living in such a pristine environment, Delena helped co-found My Sea to Sky with other passionate neighbors. With a fossil fuel industry trying to make a comeback to the Woodfibre site located in Howe Sound, she felt pulled to participate in helping to defend and protect this incredible natural environment.