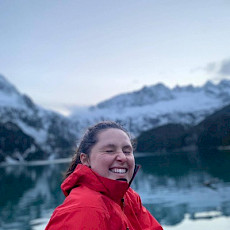 Katie Perkins
Environmental Justice Activist. Playground Designer/Tester. Trail Runner.
Youth Outreach Coordinator.
Katie is a recent Quest University graduate who has found a home in Squamish amongst mossy forests and curious friends. In her thesis, Unlearning Through Play: A Settler's Perspective on the Function of Adult Play in Decolonizing, Katie combined her love of play with her passion for environmental justice to better understand how systemic problems require deeply creative solutions. She asks questions like, how does settler colonialism contribute to internal conflict in Canada and ultimately to climate change; what is the role of decolonization in preventing further conflict; and finally, can decolonization take place in accessible, playful spaces designed for adults? She hopes to continue exploring these questions and others like them throughout her life.
When she is not asking questions, Katie enjoys sliding down coastal mountains, teaching kids how to ski, dancing in the forest, cooking with her friends, and laughing. Play on, she says!